Posted By: Gibbo
Boaty McBoatface Launch Saturday -

12th Jul 2018

9:08am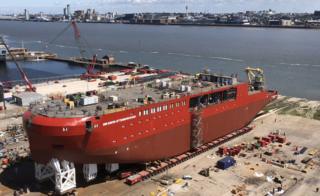 Quote
The newly assembled hull of the RRS Sir David Attenborough is now standing on the slipway of the Cammell Laird yard in Birkenhead, awaiting launch day.

Weather and tide permitting, she should slide into the River Mersey on Saturday.

The £200m vessel will replace the James Clark Ross and the Shackleton, which between them have almost 50 years' service in support of UK polar science.

The Attenborough is the ship the public had wanted to call "Boaty McBoatface" in an online poll, before ministers stepped in to choose a more appropriate name.

She represents the largest commercial ship built in Britain in three decades.

The hull should make for quite a sight as her steelwork floats out into Liverpool's famous waters.
Planned for around lunchtime Saturday.
https://www.bbc.co.uk/news/science-environment-44780708